Location / Venue:
School Of nursing Sciences BoardRoom
The 2017 edition of NUNSA Student mentorship and ALMNI networking forum 2017 was held on 23rd June 2017 at the School of nursing sciences. The event It was successful and saw the coming together of a panel of school of nursing sciences alumni working in various capacities in several organizations, both local, regional and international, based in Nairobi and beyond.
The panel also consisted of an executive coach and professional mentor, a Philips East Africa Human Resources Business Partner, Ms Daisy Ogutu.
The major objective of the event was to launch a mentorship programme for the nursing students; by providing a platform for them to interact with and hear the real life, school and career experiences of highly successful individuals who have been through the University of Nairobi School of nursing sciences. It also provided a platform for professional executive coaching, leadership and soft skill development aside from the alumni network building programme.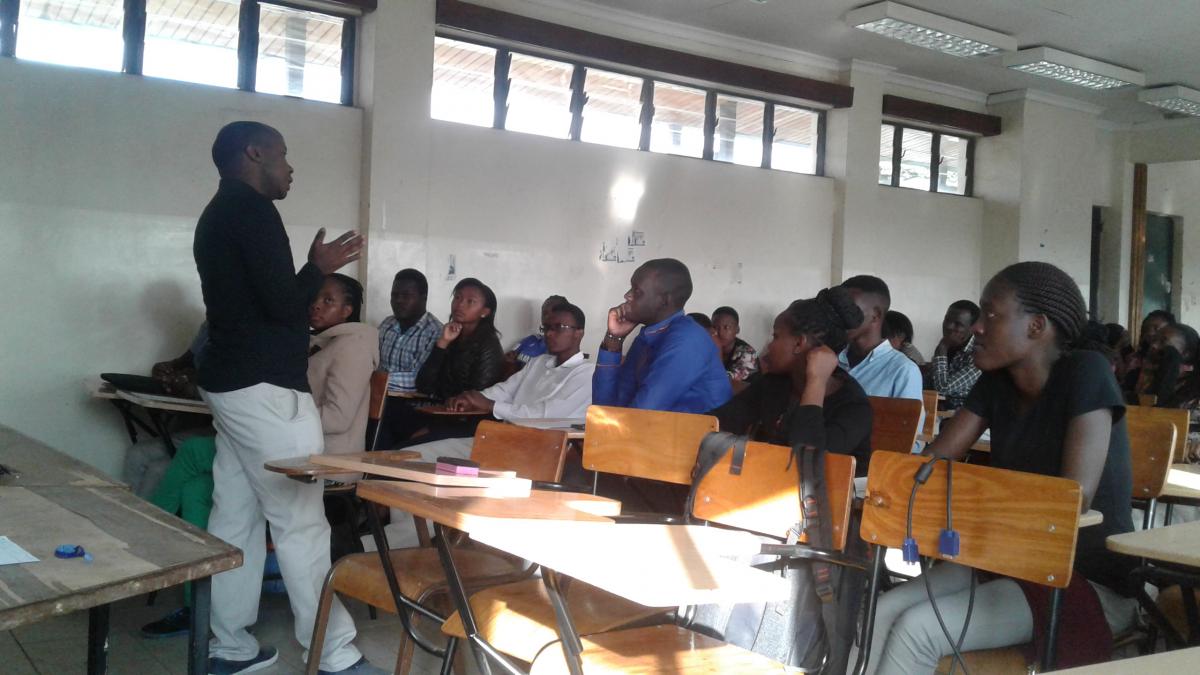 The event was attended by approximately over 100 nursing students, from level 1 to 4, being facilitated by a team of 7 alumni and 1 executive coaching specialist, the office of the Director School of nursing was represented by Dr. Waithera Mirie, Senior lecturer, while the College of Health Sciences Mentorship Committee was represented by Mr. Kenneth Awori. The list of the facilitators in attendance was as follows:
Boniface Oyugi – Senior Scientist – Health Economist at Philips East Africa. London School of Economics, London School of Hygiene and Tropical Medicine, Fellow, Evaluation and Monitoring, University of Washington.
Angela Nguku – C.E.O of Advocacy Kenya for Safe Motherhood and child health and the White Ribbon Alliance affiliated to the UN, Common Wealth Scholar to Oxford.
Sarah Kedenge – MPH, London School of Hygiene and Tropical Medicine.
Ruth Maithya – MSN, University of Dundee, MA at UoN, PhD Student, UoN – AMREF training programme development and management.
Daisy Ogutu – MBA, University of Sunderland, Practitioner Diploma in Executive Coaching USIU, APPI – Certified Process and Performance Professional, Member of the Institute of Human Resources (K).
Dr. Caroline Gitonga – MSc. Global Health, Oxford, PhD in Epidemiology (London School of Hygiene and Tropical Medicine).
Jason Kiruja – KNH ACN – Pediatrics, Kenya Pediatric Association, C.E.O Graspit Kenya. MSc. Health Systems Management.
Cornelius Kiptoo – Pharmacess Kenya, MSc. Health Economics.

In the course of the forum a proposal to launch the University of Nairobi Alumni Association, Nursing School Chapter was brought forward by the alumni sighting the need for their closer cooperation in supporting student academic and extracurricular activities such as internships and exchange programmes