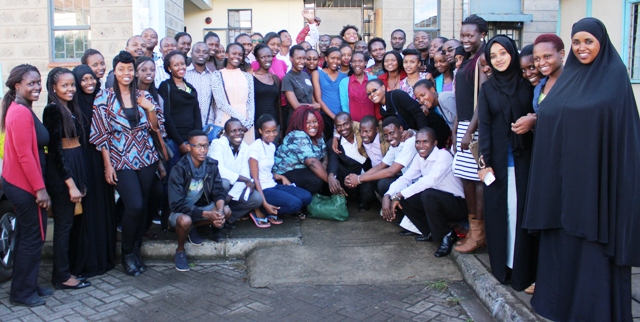 BSc.N Class of 2015 students pose for a photo at the school compound.
School of Nursing Sciences Director Prof. Grace Omoni has hailed BSc.N Class of 2015 students for their dedication in studies after they successfully completed the four-year course.
According to Prof. Omoni, the graduands, who are expected to graduate on 4th December, embraced teamwork both inside and outside classroom during their studies, to achieve their career goals.
She said she was proud of class because it was the first one to have an exchange program where one student named Tonybrian Mungai visited the University of Massachusetts, Boston College of Nursing for the program.
Apart from taking part in the exchange program, Mungai also received prestigious 2015 Rhodes Scholarship to undertake his postgraduate studies in nursing at Oxford University, something that the Director was really proud of.
The Director wished the graduands all the best in their careers and asked them to be good ambassadors of the School in the nursing fraternity.